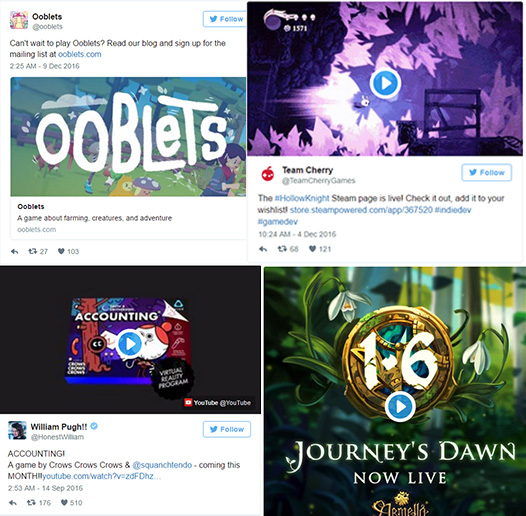 As I have marketing on the brain for EXO ONE, I'm simply looking at a range of Twitter accounts I follow to see how they take full advantage of anyone arriving at their Twitter profile.
Da Pinz
William Chyr pins Manifold Garden's Steam store page with a video. Call to action? "Add it to your wishlist" so you're notified when it comes out.
Manifold Garden now has a Steam store page! Go ahead and add it to your wishlist: https://t.co/644cAEnCO3 pic.twitter.com/nvwMn4dPwU

— William Chyr (@WilliamChyr) August 4, 2016
Team Cherry totally copies William Chyr, OMG!:
The #HollowKnight Steam page is live! Check it out, add it to your wishlist! https://t.co/XAaar0DJm7 #indiedev #gamedev pic.twitter.com/0HhDa6NFs9

— Team Cherry (@TeamCherryGames) December 3, 2016
Astroneer delivers a space-themed "out now, go buy it!" pin, showing the game name, what the game is about, and where to get it, boom!
Whether you and your friends are waking up or saying goodnight, Astroneer is available now, all around our world https://t.co/ptn4W0REfE pic.twitter.com/0bzO4TjY8q

— ASTRONEER (@astroneergame) December 16, 2016
While Tom Francis is so attractively successful he promotes Ubisoft instead of his games:
I'm mild as hell and I am gonna take it some more.

— Tom Francis ✳️ GDC (@Pentadact) December 18, 2016
Ooblets prompts you to sign up to their newsletter/mailing list, linking to their home page, which features the sign-up form top/center. They also throw in the games logo/screenshot + one line description, nice!:
Can't wait to play Ooblets? Read our blog and sign up for the mailing list at https://t.co/b49GXISfHR

— Ooblets (@ooblets) December 8, 2016
Finji, loving their political Tweets lately, pins this one up front and center (P.S. how long till a politically inspired game? Or is Overland "post-Trump America?!")
Press Release – This is not OK https://t.co/uQqeUJPK7M pic.twitter.com/diYzgJYKvj

— Finji (@FinjiCo) January 12, 2017
Mr William Pugh (OMG, look at that amazing hair!) blams a Youtube video to the top of his Twitter account, featuring their cray-cray VR game, in collab with @squanchtendo. I wish *I* could be told by the Rick and Morty creator to fuck off in VR, but I lack the Vive! These guys have so much marketing punch they can name their game the complete opposite of what it is, nice! Kinda like me with EXO ONE eh?!
ACCOUNTING!
A game by Crows Crows Crows & @squanchtendo – coming this MONTH!!https://t.co/1Q4AqGNKDr

— William Pugh!! (@HonestWilliam) September 13, 2016
OK I need some variety to finish this off…
Lawl, here's Luke Muscat's. Again, perhaps only doable/recommended if you have a big name like his:
— Prettygreat (@heyprettygreat) October 16, 2016
Mr Nicoll "The Beard" Hunt shares some wisdom only possible through beardedness, earning him a hefty 1800 retweets for his efforts. I'm going to totally copy him and pin this article and see what happenz. On Twitter, so often your followers are other game developers, so this is certainly a nice way to corral support, by helping your fellow devs/offering advice/tips.
The first step of any project is to grossly underestimate its complexity and difficulty.

— Nicoll Hunt (@nicollhunt) April 19, 2014
Now, to actually finish this post… Pin all your updates and give them a fancy 'update name' + subtle animated gif. So classy!
Adventure flourishes within Armello.

v1.6 Journey's Dawn is live on Steam right now!https://t.co/FBgM983jBW pic.twitter.com/kKIYwZ9i1z

— Armello (@ArmelloGame) February 1, 2017
Anyone got any they think are particularly clever? Or your own? Comment or something!